Compatible with iOS 7 and 8
Also, BattSaver (iOS 5 & 6)
The only tweak that can double your battery life
- Clever: automatically switches off battery-draining components when unused
- Efficient: up to 2 times battery life and more!
- Wise: extends battery life time by reducing number of charge cycles
- Clear: includes monitoring views to check battery state in real-time!
- Intuitive: with pull to refresh feature
BattSaver app on your home screen
One that had problem with icon not showing may has to reboot her/his iPhone to make the icon show.
Some people asked where is the battery event database: it is store in /private/var/mobile/Library/Preferences/ com.xvolks.iOptimizerUrBattery-stats/stats.db
If the BattSaver icon does not shows up, try to uninstall AppSync for iOS8, thanks to Kyle for the trick.
BattSaver does not turn off radio when you turn off your phone:
- verify that the strategy you use is OK for that (and settings for Custom),
- verify that an application marked for this behaviour does not run in background.
Radio stays to 3G in iMessageFriendly mode: most of 4G devices cannot turn off the 3G and cannot go to 2G

. Check this in Infos view. Even if your carrier seems to allow you to go to 2G, some of them does not allow it for some reason...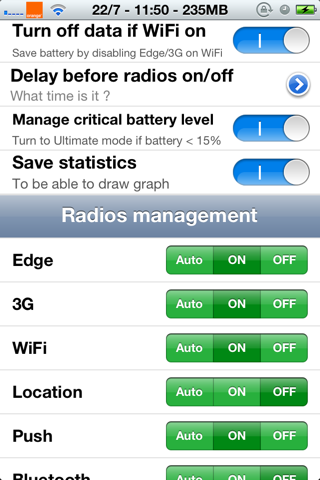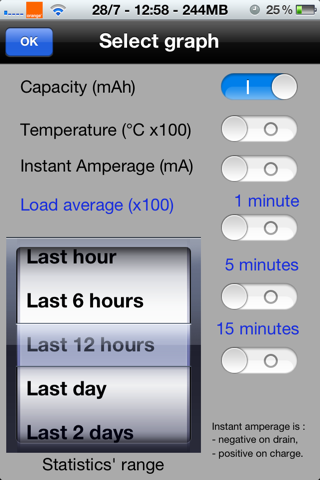 In this version: BugFix : entering the settings with an iPad makes BattSaver crash on previous version.
Fix a crash on iOS7 when going to sleep.
Remember to not use [NSString containsString] on iOS 7, this iOS8 only !

Sorry for this bug iOS7 users. I do not have any iOS7 test device

- Add restrictions on 2G/3G/4G switch. See Settings screen. This may help some users that do not have 4G, but the mobile reports that 4G is available, to avoid freezes or crashes when the phone is turned on. Users that do not have this kind of problem should not use this feature.
- Add again the old way to switch 3G/4G on and off, since some users reported that the new way freeze their phones (disabled by default, see Settings screen, below restrictions).
- Fix a bug that may prevent alarm to ring.
- Minor bug fix.